Lanzarote Day Tour Including Wine Tasting
Europe » Spain » Canary Islands » Lanzarote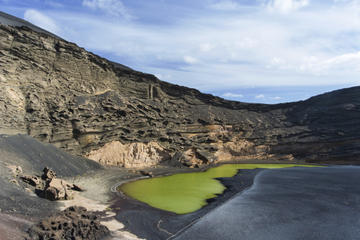 (4.5)
Duration: 9 hours
Departs: Lanzarote, Spain
Price from USD 50.21
Book Now
See beyond the beaches of Lanzarote on a full-day island tour, and discover geological marvels, volcanic landscapes and wine! With a local guide, explore Timanfaya National Park by coach and meander around the volcanic Fire Mountains (Montañas del Fuego), witnessing geothermic activity. Take photos by the green-hued El Golfo lake before lunch, and enjoy a wine tasting in the region of La Geria. Finish with a visit to Jameos Del Agua, a cave-turned-resort for free time to ogle the views.
Start your day with a pickup from your Puerto del Carmen, Playa Blanca, Costa Teguise, Puerto Calero or Arrecife meeting point, and then travel to Lanzarote's south coast by air-conditioned coach.

Pass through Uga village and into Timanfaya National Park, where a ring of stunning volcanoes, known as the Fire Mountains, dominate the sun-baked landscape. Temperatures just below the park's surface are said to hit around 752°F (400°C), and geothermic demonstrations — such as the creation of mini geysers by pouring water into the ground — are commonplace. Hop out of your coach to see such tricks take place, and hear stories from your guide about past eruptions.

Follow the 'volcanic route' through the park and travel west to Timanfaya's rocky coast to see where a large lava field once flowed down to the North Atlantic Ocean. Stop for photos by the emerald lake of El Golfo, and then take a break for lunch nearby with your guide.

In the afternoon, leave Timanfaya National Park for the winemaking region of La Geria. The area's otherworldly scenery is unique for a Spanish wine region, created from the remains of an ancient volcanic eruption. Hear how the volcanic soil, hot climate and cooling ocean winds combine to produce Lanzarote's mineral-rich wine, and learn about the crisp tones for which the wine is prized.

Visit a winery and sample a glass of wine made in La Geria. Varietals are subject to change, but typically include wine made from the local malvasia grape. Then, return to your coach and continue through the picturesque La Valles and Haria regions of northern Lanzarote.

Enjoy a final stop at Jameos Del Agua, a unique cave resort designed by local artist César Manrique. Complete with restaurants, a cafe, garden and auditorium, the site features a salt lagoon with albino crabs. Use your free time to soak up the views along Lanzarote's northern coast and La Graciosa island, just across the water. Return to your coach at the prearranged time and finish with a drop-off at the meeting point.

« All Activities